Building booms are a dime a dozen lately. Ten a penny. The earth's surface is being processed, ordered, stacked, shipped, registered and reconfigured into "architecture" elsewhere. Materials, mineral wealth, reserves.
Even in unexpected places, global blindspots, as Ürümqi now testifies. Ürümqi? Yep – and where is that again? Why, it's the capital of Xinjiang, China's northwest desert province. Recently,
William Beeman
wrote that Ürümqi "looks like lower Manhattan, with skyscrapers rising almost in front of one's eyes."
Not quite Manhattan, but...
"The city, a century ago [sic: only a century?] a major stop on the Silk Road, is flourishing again with economic activity doubling every year. The city is becoming the mercantile trade capital of all Central Asia, and there is not an American in sight. In fact, aside from a few intrepid German tourists, there are no westerners to be seen anywhere."
What were the German tourists *wearing*...?
Anyway, "The city is clean and bustling 24 hours a day. It is clearly a shopper's paradise with huge bazaars everywhere. One 'bazaar' is nothing but a four-storey building full of small offices representing every possible Chinese manufacturer or distributor of consumer goods – from cashmere shawls to computer chips. Of U.S. companies, only Nike is present. All the signs in the complex are in Chinese, Russian and Uighur, a member of the Turkic family and the official language of Xinjiang."
A brief biographical note here: I spent four months in Beijing in the summer of 1997, living with a Chinese student called Abraham. We watched fireworks explode over Tiananmen Square the night Hong Kong turned its back on Cornish pasties, the Spice Girls and Pret-a-Manger. But – yes – my breeze-block dorm room, with its glass-top desk which I cracked one night placing a thermos of boiled water on it, was only steps away, through the narrow between-space of an alley that twisted like a tree root away from the high street behind me (where Abraham and I once rode a bike together beneath a sun so obscured by pollution I could stare at it in the middle of the day)(that's the sun I was staring at, not Abraham's bike), from what we called Uighurville. Or Uighurtown, sometimes, but those always struck me as slurs. Were they? So I'd buy large loaves of flatbread there and realize that even in the middle of the capital of China there were other people as foreign as I was, with my bizarrely unpractical white and burnable skin, and it wasn't because they were "foreigners" as such; it was their desert religion, and their social movements, and their noodle bowls – it was all internal colonization, is what I'm trying to say. To live in a country does not mean that you are of that country.
But so the whole neighborhood was a street bazaar selling things I could not necessarily find the desire inside myself to purchase – except for the flatbread, which I'd pull apart while walking back to my dorm room – where Abraham told me, in truly unbelievable detail, all about American Constitutional history (thus his nom-d'école) and where I tapped on the wall at night to say hello to Jaime, the girl from upstate New York next door, who used to borrow my mixtapes – and I seemed to spend a lot of time on that narrow between-space path, maybe because there was so much shade.
That said, Tajik entrepreneurs, Chinese tourists, Uighur college students, Russian dumplings – Ürümqi is "a booming economy operating outside of Western influence, combined with ethnic tensions that are already proving explosive".
So while Ürümqi booms – and Shanghai, and Beijing itself, and the whole of Guangdong – what do you know but fuckin Moscow is in on this, too: in the August 2005 *Architectural Record*, Paul Abelsky writes: "While the world focuses on Beijing and Shanghai as the new centers of building construction, Russia's capital, Moscow, is undergoing a transformation unmatched since the massive overhaul of the Stalin era. The building boom has overtaken huge swathes of the city (...) [and] about 50 million square feet of housing were added. Public officials have spoken of building 38 high-rises of up to 45 stories in the next several years, with 22 more expected by 2015 as part of a program known as the New Ring of Moscow."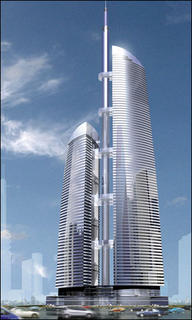 "The planned series of towers and modern infrastructure promise an infusion of high-tech energy whose vertical extension will resemble Kuala Lumpur and Shanghai more than a European metropolis."
Norman Foster, Zaha Hadid, Rem Koolhaas.
Then there's the "Moscow-City" district (surely there's a novel in that name! even a thousand novels! a whole series of something-or-other mystery/horror/spy thriller novels?), "a sector northwest of the city center that has been designated as the future administrative and financial nucleus."
Which reminds me of Berlin in the 1990s. Of course, the new *Economist City Guide* email newsletter about Berlin informs us that, now, "[t]he number of flats in Berlin has risen by 6% to an astonishing 1.88m over the past six years. That's one flat for every 1.8 Berliners," or "what gives Berlin its youthful buzz: 920,000 (or 27.6%) of the city's residents are under the age of 27. They are growing used to having plenty of personal space, since the average flat in Berlin measures 70 square metres." Another way of saying that, however, is that they built too much.
Bahrain, meanwhile, in forecasting the end of the oil economy, is setting itself up, through yet another building boom, to become a tourist attraction and
offshore financial services hub
. To do so, though, Bahrain – a very small kingdom – has turned to "innovative offshore developments and land reclamation projects."
An artificial earth! Extending into and over the sea!
Then there's Baghdad, and "Bremer walls" (huge, ubiquitous, monolithic concrete blast shields –
– somewhere between Stonehenge and fortress urbanism, and named after the well-groomed Mr. Paul Bremer himself [a former reinsurance executive: this
PDF
is amazingly informative in that regard]), and
this article
about Lieutenant James Vandenberg's tour of duty as a "combat architect" in that fabled city. (Thanks to
Archinect/Ludwig Abache
for the link).
Finally, because I'm running out of steam:
London
. LNDN.bldg.
London now looks forward to "31 major new developments... all £100bn worth of them, including the 2012 Lea Valley Olympic Park." That equates to "400,000 new homes, around 8m square feet of new offices (four Empire State Buildings' worth)," as well as "so many secret, or simply obscure, developments" that the
New London Architecture
centre (aka NLA) was at least partially created to help make sense of it all.
Brief questions: where is all this material coming from? I know new earth's crust is continually being formed near the core/mantle boundary, for instance, and that superplumes of volcanic matter form massive geological features such as the Ontong-Java undersea Plateau, but you can only build so much architecture before you start to carve quite deeply into the planet. So: where are the negative spaces of these building booms? For every skyscraper in Ürümqi, is there a corresponding hole, quarry, or mine being dug or deepened somewhere in Kazakhstan? Or Montana? The Canadian arctic?
Like the urban geology walks mentioned in a recent BLDGBLOG post, could you do a geophysical tour of the earth's voids, where huge quantities of mineral reserves and raw metals have been excavated, to say: this was Shanghai? Here is the hole that was transformed into Beijing?
The empty flats of Berlin, the New Ring of Moscow, New London Architecture – all rearrangements, transformations of the void, ever-deepening holes as we strip-mine the face of the planet.